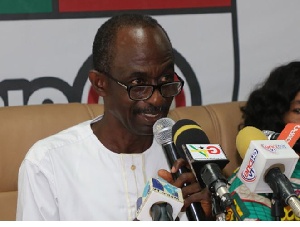 Outspoken General Secretary of the opposition National Democratic Congress (NDC), Johnson Asiedu Nketia, has advised Chairman of the National Peace Council, Rev. Professor Emmanuel Asante against granting interviews to the Ghanaian media as they noted for misinterpretation.
Popularly referred to as General Mosquito in Ghanaian politics, Asiedu Nketia said the Peace Council Chairman is one personality he has great respect for because he is a man of peace and speaks with much wisdom.

According to Mr Nketia, Prof. Asante never demanded former President John Mahama to apologize to Ghanaians for his 'boot for boot' statement, blaming the media for the leftist slant they gave to the Professor's conditional statement.

"I heard Professor Asante on TV3, after these wild media discussion that he had demanded former President Mahama to apologize for his statement, which the opponents of the NDC claim, is distasteful to the peace of our country.

"The man didn't emphatically say what the media claim he had said. His statement was conditional because at the time he was being interviewed, he said he had not heard what former President Mahama was alleged to have said.

"Professor Asante is a respectable personality in our country and I respect and admire him a lot for his posture. The media ought to be careful in their struggle to knock heads," he cautioned the media," the NDC scribe said.
He added that the NDC would be defensive, after the criminal illegalities recorded at the Wuogon by-election.

"We are not going to be docile anymore and as former President Mahama had said, if we believe that the government's illegal forces are intimidating and harassing us, we will defend ourselves," he said in an interview on an Accra-based radio station.