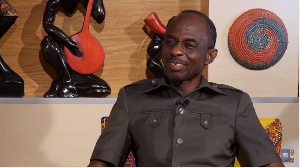 Editor-in-Chief of the New Crusading Guide Newspaper, Abdul Malik Kweku Baako has dismissed assertion by General Secretary of the opposition National Democratic Congress (NDC) Johnson Asiedu Nketia that the Board Chairman of the Ghana Audit Board, Prof. Edward Dua Agyeman was sacked from office by the PNDC Junta in the 1980s over forgery.
Asiedu Nketia addressing a press conference on Tuesday launched into a tirade against Professor Edward Dua Agyeman, saying the latter lacks integrity to occupy his office.

The NDC Chief Scribe further argued that Prof. Dua Agyemang who's also the Chairman of the Cabinet sub Committee on Forensic audit was tainted by scandals in the past and does not deserve to hold the position as the Board Chair of the Audit Service.

"It was Prof. Dua Agyeman who in 1983 was banned by the Institute of Chartered Accountants-Ghana from practicing Accountancy and Auditing in Ghana for forging an Audit report for a private firm whose Accounts he's neither seen nor audited. The person who has been appointed by Nana Akufo-Addo to chair the Audit Service Board and who is being asked to recruit these private firms in the name of Cabinet Committee's kitty, he's the person who now has been recycled to chair the Audit service board by Nana Akufo-Addo to fight corruption.

He continued:"It was the same Dua Agyeman, who in 1986 led a team to conduct special investigations and at the end of the exercise presented a false report causing some heads of department to suffer unjustly even though they were innocent leading to Dua Agyemang being sacked during the PNDC time."
But speaking on Peace FM Wednesday, Abdul Malik Kweku Baako stated that Mr Dua Agyeman then deputy Auditor- General resigned from his position and was sacked as claimed by Asiedu Nketia.

Quoting from a letter written by Mr Dua Agyeman dated 30th June 1989, titled "Resignation of Appointment" and addressed to the Chief of Staff/ PNDC, Abdul Malik Kweku Baako said the former left office on health reasons because he was suffering from glaucoma which was adversely affecting his sight.

"The NDC has always had difficulties with this man due to the audits that he began to undertake into GIHOC with focus on Caridem in 2001, GHREL and the rest, they had terrible problems with this man. GPHA, there was some audits he did on Bagbin, they had terrible problems with him. It's all documented, I'm not that surprised that they continue to have a battle with him, fair deal, but be truthful," Baako added.