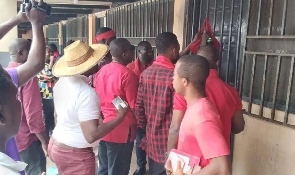 Thu, 8 Jun 2023 Source: GNA
Members of the Ho Municipal Assembly on Wednesday rose against the Municipal Finance Officer, Mr. McGeorge Afertorgbor, and locked him out of his office for lack of cooperation.
The Assembly Members, clad in red and chanting war songs, also locked up the wheels of the official pickup truck of the Finance Officer, who was absent at the time.

The Assembly members demanded that the finance officer be replaced within three days.

Mr. Mawunyo Agbe, Presiding Member (PM) of the Assembly, told the media that the MFO had not provided the needed cooperation for the effective running of the Assembly and that they, the Assembly members, "cannot sit aloof."

He said the MFO's resolve to not support the development agenda of the Assembly hindered its progress and affected the mandate of individual Assembly Members in the growth of the various communities.

The PM said several appeals to stakeholders, including the Controller and Accountant-General's Department and the Regional Minister's Office, proved futile and that the Assembly Members hoped that their action would "send a signal to his employees that we mean business."
He said it was the responsibility of the Assembly to ensure checks and balances within the local governance structure and that the Assembly should be ready to bear the pain of ensuring things were done right.

"There is no gain without pain. We know that for today and for tomorrow we may suffer, but we have suffered for far too long, and we are okay with three challenges to fix this problem," Mr. Agbe stated, adding that the finance committee and other bodies should be able to ensure the smooth operation of the Assembly until a new officer is posted.

Assembly Members pointed out how they were being attacked in their respective communities for lack of development and said the MFO's repeated response of "no funds" contradicted the outlook of the growing municipality.

The Assembly Members said the MFO should be replaced for his "gross insubordination," which did not aid the promotion of community development, and said he was fond of passing "silly comments," while also alleging that he was abusing the powers of his office.

"We want somebody who would respect us Assembly members, and we would also respect him for his vision," Sefadzi Agama, a Member of the Assembly, said.
Mr. Divine Bosson, Ho Municipal Chief Executive, who had joined the meeting after the mob action, called for calm and professional discourse over the matter as the MFO was not a staff directly under the Assembly.

He said the Assembly had been enjoying exceptional progress based on unity among key stakeholders, which should not be thrown off track.

Mr. Bosson said Dr. Archibald Yao Letsa, the Volta Regional Minister, had given the assurance that the issue would be solved, adding, "So, please let's cool tempers and let's continue to be working together to solve the problem."
Source: GNA