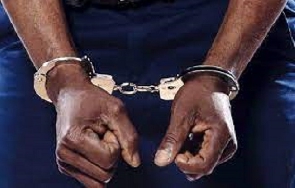 A fetish priest has been arrested at Assin Manso in the Central Region for allegedly killing a 16-year-old JHS leaver, Emmanuel Amoah, and burning his body for rituals.
According to sources, the victim, who was also an "Okada" rider, was contracted by the fetish priest to drop him at his residence, but the boy never returned that day.

Per the victim's own brother's account, last week Thursday, when the boy did not get home after his usual closing time, the family was alarmed and then reported the issue to the police.

He said that after a search, in collaboration with the Police, they found the motorbike belonging to the boy at a nearby village.

He narrated that upon questioning the residents about the boy, the residents told the family that they saw a wildfire the previous night at the residence of the priest, but because they were scared of him, they did not go near it.

The residents said they gathered courage the next morning and went to the home of the priest in his absence, and that was when they saw a dog trying to dig the ground, and they perceived it was a human body.
The police then took the bones and the remaining body parts to the Assin Fosu Hospital for autopsy, and it was then that a brother of the priest informed the police that the priest had been killing people and had fled.

The brother of the priest then helped to trace the priest, leading to his arrest.

Meanwhile, according to the brother of the deceased, the police stated that when the suspect was asked about the boy, he initially said the body that was being burned was that of a goat, but later admitted that it was a human being.

He said per all indications, it was clear that the Priest killed his brother after finding the boy's motorbike at the residence of the Priest.

He also appealed to the Police to ensure justice is served while the rest of the body parts are given to the family.