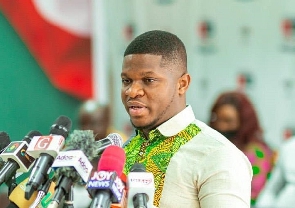 Sammy Gyamfi has urged Ghanaians, especially residents of the Assin North Constituency, to ignore assertions that ousted Member of Parliament for Assin North, James Gyakye Quayson, has committed a crime and is likely to be imprisoned.
According to the National Communications Officer of the National Democratic Congress (NDC), the ruling New Patriotic Party (NPP) is championing this assertion just because it wants to deter people from voting for Gyakye Quayson in the upcoming by-elections.

Speaking in an interview on Cape Cost-based Rich FM over the week ended, Sammy Gyamfi insisted that the former law marker has committed no crime.

"NPP members are saying that once the Supreme Court has ruled against Honourable Quayson, it implies that he would also lose the criminal case.

"This is what should let you know that the NPP is full of liars because they know the truth. I will not say that they (NPP members) are dumb. They know the truth, but they will not say it because they what to deceive the residents of Assin North.

"I'm a lawyer... where is it stated that if the Supreme Court rules on a civil matter against you, then the High Court too will do so? The Supreme Court case was a civil matter; it wasn't a criminal matter," he said in Twi.
He went on to cite the example of the case of Alfred Agbesi Woyome, where the Supreme Court ruled against him, but the High Court said he had done nothing wrong.

"Martin Amidu sued Alfred Agbesi Woyome at the Supreme Court, accusing him of unlawfully receiving a GH¢52 million judgment debt. While Woyome was in the Supreme Court, the NDC government at that time also sued him in the High Court.

"The Supreme Court case was a civil matter, and the High Court case was a criminal matter just like the case of Honourable Quayson. Supreme Court ruled that the money given to Woyome was illegal… but the High Court said Woyome was not a criminal," he said.

Background:

The Electoral Commission of Ghana announced a by-election for the Assin North Constituency, on June 27, 2023, following the declaration of the seat as vacant by the Parliament of Ghana.
Parliament declared the seat vacant after a seven-member panel of the Supreme Court of Ghana ordered the House to expunge the name of James Gyakye Quayson as a Member of Parliament.

Justice Jones Victor Dotse, Justice Nene Amegatcher, Justice Mariama Owusu, Gertrude Araba Torkornoo, Justice Prof. Henrietta Mensa-Bonsu, Justice Yonny Kulendi and Justice Barbara Ackah-Yensu declared that Quayson was not qualified at the time he contested the election 2020 in the Michael Ankomah Nimfah vrs James Gyakye Quayson case.

However, there is still one case the former MP is in court for.

The State, on February 12, 2022, charged James Gyakye Quayson with five counts; deceit of a public officer, forgery of a passport, knowingly making a false statutory declaration, perjury, and false declaration.

Watch the interview below:


Meanwhile, watch a snippet of GhanaWeb TV's latest program that focuses mainly on Everyday People below:





You can also watch the latest episode of People & Places on GhanaWeb TV:


IB/OGB