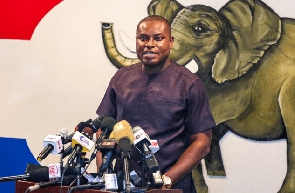 The Communications Director for the governing New Patriotic Party (NPP), Richard Ahiagbah, is assuring supporters that the governing party will emerge victorious in the June 27 Assin North by-election in the Central Region.
The Director of Communications of the NPP maintained, "Assin North is an interesting seat, it's alternating back to the NPP, our chances are very bright.

"If you pay attention to the numbers, we have won with more votes than the National Democratic Congress has ever won. They never crossed anywhere, the last time we won was in 2016 in excess of 56 or 57 percent."

"So clearly we have a potential to perform better in that constituency. With the work that we have done, come June 27, the NPP will emerge victorious.

"The dynamics are different, and it has nothing to do with his person [James Gyakye Quayson], whose second coming doesn't really matter," he declared.

He said the NPP will elect a parliamentary candidate for the by-election on June 7.
"We opened nominations on Wednesday for all who are interested in contesting for that seat to present themselves to our party delegates who will choose which one will be fit to represent us. My last checks suggest that two people have picked nominations forms so far. We will do the vetting in the cause of the week and elections will be held on June 7 to select the parliamentary candidate for Assin North," Mr. Ahiagbah said on Accra-based Citi FM.

The NDC has stated that it will re-present James Gyakye Quayson.

Parliament, through its Clerk, declared the Assin North Parliamentary seat vacant on May 30, following the Supreme Court's ruling on the eligibility of James Gyakye Quayson in occupying the Assin North seat.

The Supreme Court, by a unanimous decision on May 17, ordered Ghana's Parliament to expunge the name of James Gyakye Quayson from its records as the Member of Parliament (MP) for the Assin North constituency.