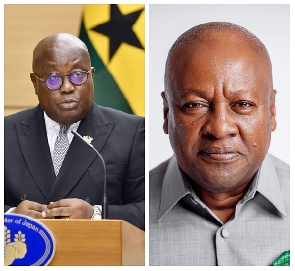 Former president and presidential candidate of the National Democratic Congress (NDC), John Dramani Mahama, has taken a swipe at President Nana Addo Dankwa Akufo-Addo.
Speaking at a ceremony to mark the 11th anniversary of the passing of Prof John Evans Atta Mills in Accra on Tuesday, July 24, 2023, Mahama said that the late former president did not use state agencies to do his bidding like is happening in the current dispensation.

He added that the politically charged judicial system that is being seen today was not seen under Prof Mills, 3news.com reports.

"He (Prof Mills) was not one to create power at all costs and manipulate state agencies to do his political bidding.

"The Electoral Commission (EC) was truly independent and the judiciary did not live in fear of not satisfying the president's wishes by their verdicts.

"He did not weaponise justice unlike what we are living through today. He was a great talent spotter and I count myself among his many proteges who have gone on to excel in our various fields of endeavour.
Mahama also said that the later former president had high regard for the culture and values of Ghana; saying, "He (Prof Mills) held our social and moral values high and it is no wonder that he was unequivocal in his abhorrence of LGBTQ".

BAI/WA

You can also watch a new episode of Legal Agenda below:






Watch the latest episode of the Lowdown on GhanaWeb TV below: