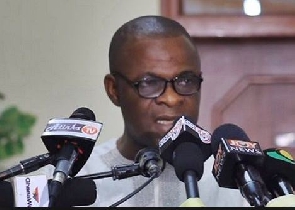 A former Police CID Boss, COP (RTD) Bright Oduro, has urged Police Commanders and supervisors to be up and doing in order to reduce the rising attacks on police officers.
Many police officers have been attacked in recent times while on duty.

Just recently at Axim, a civilian and a police officer engaged in a scuffle near a galamsey site, after which the officer begged the civilian to give over his equipment.

Also at Kumawu, six civilians were arrested for attacking a police officer on duty.

Speaking on Atinka TV's morning show, Ghana Nie with Nana Yaw Fianko, COP(RTD) Bright Oduro said Police commanders must monitor the activities officers who go on patrols.

"The Police Command must be sure of what they are doing. You cannot send one or two people to go and stop galamsey. Galamsey is a big issue and those who are doing it are very serious and so if you want to stop galamsey, you have to go all out, not just two or three people with one car. We need intelligence and information to tackle this issue and all these rest on the Command. The Commanders should also be up and doing and monitor the activities of their men they send on patrols," he said.
For those who are sent on patrols, he advised them not to just go anywhere to do other things, adding that even when they are sent and they face problems, they have to call their commanders.

He said police officers must be taken through continuous training in order to protect themselves and as well know how to deal with the public while on duty.

COP(RTD) Bright Oduro also advised the police to put a stop to the rampant extortion in order to win back confidence from the public.

"Training is very important. If we do our work professionally and even in the way we talk while on patrols, it will bring much confidence and deter people from attacking the police," he said.

He continued, "We must train our men on what they must do and what they do not have to do, what is involved in operations and logistics, as these are crucial. Commanders and supervisors must also be proactive and ensure that the men they dispatch do the correct thing and not what they desire.