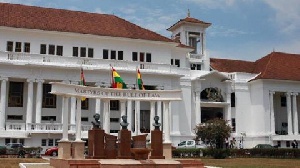 The Supreme Court presided over by His Lordship Justice Yao Apau has granted the Attorney General seven days to file their statement of defense in a case challenging the decision of former President John Dramani Mahama in pardoning the Montie trio.
The plaintiff, Nana Bediatuo Asante, in September 2016, sought among other reliefs that the Supreme Court should rule whether or not the former President's action was constitutional.

They also sought a further order to have the Montie trio rearrested and jailed to serve their full terms. In responding to the suit, the Attorney General's Department delayed in filing a defense; thus, submitting that they needed to get information from all stakeholders involved in the case.

However, the Counsel for the plaintiff, Lawyer Godfred Odame argued that the case before the Supreme Court does not involve any other parties but against the President for that matter the Attorney General.
Justice Yoa Apau upheld his argument and further explained to the Counsel of the respondent, Principal State Attorney, Mrs. Grace Oppong representing the Attorney General that It is a constitutional issue.

He also mentioned there are no stakeholders involved as they thought and would not need any affidavit and or any further information.

The Supreme Court subsequently asked the respondent to come back in seven days and file their defense for the case.