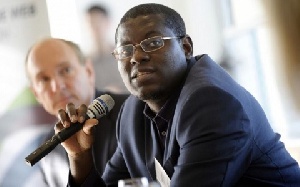 The legal advice given by the Attorney General, Gloria Akuffo, over the Ameri deal, has been misrepresented on social media, Honourary Vice President of Imani Ghana, Bright Simons, has said.
Mr Simons was one of the people who thought that the $510million Ameri power deal signed by the John Mahama administration to deal with the power crisis in the country at the time did not give Ghana value for money. He called for renegotiation of the deal by the Akufo-Addo-led government.

Ms Akuffo, has given the $510million Ameri power deal a clean bill of health.

She has therefore, warned the Government of Ghana (GoG) against any plans of abrogating the deal.

In a statement signed by Ms Akuffo cautioning the government over the deal she said : "However, Responsible Officers of GoG executed the Agreement amid calls by a Norwegian newspaper and members of the general public of the exorbitant cost of the project. But neither GoG nor Parliament, which subsequently granted approval for the Agreement, found it necessary to conduct any due diligence that may have resulted in a better deal for GoG.

"The complaint that profit margin in favour of Ameri is objectionable, has no grounding in law since the parties freely bargained and concluded the Agreement through accredited representatives and or agents.
"Neither is the notion that the agreement ought to be nullified because Ameri did not contribute any money to the performance of the agreement is maintainable in law."



But reacting to the news on his Facebook page on Monday May 28, Mr Simons said : "I have just seen, here on Facebook, the legal advice of the Attorney General of Ghana and excerpts of the advice of the GoG's external solicitors on the question of whether the GOG should continue to pay Ameri's monthly bills. Through international contacts I have also seen Ms. Vicki Bright's legal advice to the Government.

"The sum effect of all these are being heavily misrepresented on Facebook. As someone who took extreme interest in the subject, I shall be publishing a post soon on the subject. Once my current meeting is done.

"In the meantime, if you are interested, do ensure that you read the entire document from the AG's office and not anyone's paraphrase. A key question remains the Government's seeming paralysis on this issue."