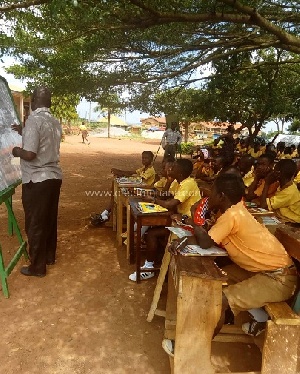 Pupils of Akyeremade D/A Primary and JHS in the Atwima Kwanwoma district of the Ashanti Region study under tress due to lack of classrooms, exposing them to environmental hazards.
Lack of tables and chairs too have compelled four pupils to use one double-table, a situation the school authorities has called on the Ghana Education Service (GES) to come their aid.

Due to these conditions the quality of learning and teaching is compromised as the school has to close earlier than normal.

The Headmistress of the JHS, Madam Sabina Boakye Gyasi, told Otec News' reporter Josephine Boateng, who visited the school on Thursday, November 8, 2018, the school is running twice the enrollment of the school, with 85 pupils in a class, instead of 40.

"The school started 15 years ago with a main stream, that is, JHS1, JHS2 and JHS3, but its running with two main streams which has compelled us to put the other stream (JHS1, JHS2 and JHS3) at the trees at the mercy of the sun and rain," she said.

A JHS teacher who teaches 'under tress pupils', Madam Christian Adjei Sarpong, who spoke to Otec News also narrated the harsh conditions she found herself in teaching under trees, making it difficult for effective learning due to noises emanating from the outside environment.
"Teaching under trees has not been easy. It exposes the pupils and the teachers to the harsh environmental conditions like wind, sand and rain. It affects the teaching and learning as any activity created by moving vehicles and passerby disrupts the class," she lamented.

The Assembly member for the Akyeremade Electoral Area, Hon. Frank Badu, said the Atwima Kwanwoma District Assembly has been notified several times but yet to get receive a favorable response.

He then called on the G.E.S to intervene the situation by providing additional infrastructures and logistics to improve the quality of education in the area.