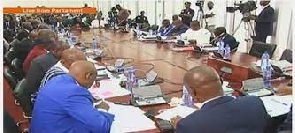 Despite shocking revelations, Mr Kofi Okyere Agyekum, a ranking member of Parliament's Public Accounts Committee (PAC) and Member of Parliament (MP) for Fanteakwa Constituency, says he is not surprised by the details of the recent Auditor General's report on COVID-19.
According to a report by the Ghana Audit Service on the government's COVID-19 expenditure for the period going from March 2020 to June 2022, GH21,844,189,185.24 (over a billion US $) was mobilised to mitigate the impact of the COVID-19 pandemic in Ghana.

The 119-page long report highlighted irregularities in the management of some tranches of the funds.

Among them is the payment of an unapproved risk allowance at the ministry of information. It appeared that "senior management staff and other supporting staff" of the ministry paid themselves a total of GH151,500.00 as COVID-19 risk allowance for coming to work during the lockdown period.

That went against "presidential directives and without approval from the office of chief of staff."

Indeed only frontline health workers were to receive an additional allowance of 50 percent of their basic salary per month for March, April, May and June.
Failure to take delivery of vaccines

According to the report, the authorities failed to take delivery of some COVID-19 vaccines they paid for. The Ghanaian Ministry of Health paid an amount of US$120,192,379.80 to UNICEF/AVAT for the supply of vaccines.

However, just "5,109,600.00 doses of vaccines valued at US$38,322,000.00 were supplied to the National Cold Room."

Speaking on Atinka TV's morning show, Ghana Nie with Ama Gyenfa Ofosu Darkwa, Mr. Kofi Okyere Agyekum noted that although sometimes those in charge of these monies try to keep them, before they are brought to the PAC, they make the payments, and when you ask them, they sometimes say they paid just a day before appearing before the PAC.

At other times, he said, some also make payments, but they do not take receipts or do not keep them.
However, he said that one of the main focuses of their job is to ensure that people do not have the government's money in their pockets or escape with it.

"At this point, there is nothing that comes before PAC that we have never heard of; there is nothing that has really surprised us because sometimes when people come, they will say they were not issued with receipts. "Someone can pay someone and the law says take receipt, but he won't take receipt, and when you ask them, they'll tell you stories," he explained.

He continued, "We went somewhere and someone said mice have chewed his receipts and documents, there is nothing that really surprises us. "