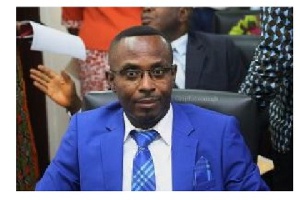 Kwamena Duncan has expressed his resentment on the findings by the Auditor-General indicating that the Ministry of Health paid UNICEF/AVAT over 120 million dollars for Coronavirus vaccines but failed to receive all vaccines from the supplier.
According to the Auditor-General's report, the "Ministry of Health on behalf of Government of Ghana paid an amount of US$120,192,379.80 to UNICEF/AVAT for the supply of vaccines. However, 5,109,600.00 doses of vaccines valued at US$38,322,000.00 were supplied to the National Cold Room leaving a difference of US$81,870,379.80 with UNICEF/AVAT".

This has aroused public agitations with critics demanding retrieval of the over US$80 million at UNICEF/AVAT and also calling for heads to roll.

Addressing the matter during "Kokrokoo" panel discussion programme on Peace FM, the former Central Regional Minister slammed the Ministry of Health saying these findings do not paint a beautiful picture to Ghanaians.
According to him, the Ministry cannot blame this on storage challenges saying, "if that is the case, enter into the agreement and do it pay as you consume basis".

Kwamena Duncan being unhappy about what has been disclosed exclaimed that "that is not the way to go. It gives burden, extra burden for those who sit and those who stand for the government. We carry bigger burden when it goes on this way".

He added; "Sometimes, some of these are very worrying and I mean we should stand up to it and let all of us because we all either float together or sink together. So, I have not been happy especially on the COVID matter as it relates to Ministry of Health."