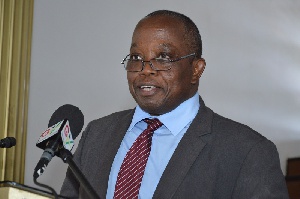 The Ghana Anti-Corruption Coalition (GACC) has described the alleged frustrations by the Auditor General Mr. Daniel Domelevo regarding his operations as "extremely troubling and a threat to the ongoing efforts by the Audit Service to protect the public purse and promote public accountability."
The Auditor General, Mr. Daniel Domelevo has lodged complaints about interference to his work with the President.

In a five-page petition dated July 27, 2018, sighted by Kasapafmonline.com, the Auditor-General requested the President to intervene in the "unlawful interference" by the Board Chairman and others whom he said, are clothing themselves with powers to direct and control him unconstitutionally.

The President has consequently asked his Executive Secretary, Nana Asante Bediatuo, to look into the petition and report same on the matter.

However, the GACC in a Press statement has commended the President for his swift response in intervening in the matter and addressing the impasse at the Audit Service.

"We have taken notice of the swift action of the President, once the matter became public, to investigate the matter and we urge that this task is undertaken with alacrity to ensure the ongoing work of the Auditor General and the morale of the Service is not affected.
"Finally, the Coalition wish to state unequivocally that it holds Mr. Daniel Domelevo and the staff of the Audit Service in high regard for the work they have embarked upon to ensure that our leaders are held accountable for how they utilize public resources. If we are going to seriously achieve a Ghana Beyond Aid we need a stronger and more committed Audit Service and Auditor-General. We hope that at the end of this process we would have taken positive steps in that direction."