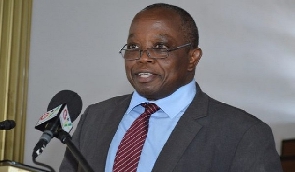 Former Auditor-General, Daniel Yao Domelevo, has stated that the government of Ghana took advantage of the Covid -19 crisis and misapplied funds that belonged to the state.
Speaking in an interview on Joy News, the former Auditor-General asserted that the Ministry of Finance and other front-line institutions coordinated certain payments that had little to do with the disease's emergency and also approved expenditures that weren't necessary at the time.

"The government or ministry of finance or those who were in charge, just took advantage of the emergency to misbehave. For instance, the payment of the NABCO is it part of the emergency, and the payment of the SNNIT this thing, is it part.

"When you go and borrow money and you say let me go and use it to address an emergency and you use it to go and pay for SSNIT is that an emergency," he questioned.
His comments follow the Auditor-General's report which revealed some infractions in the government's expenditure for Covid-19 from March 2020 to June 2022.

The report stated that a total of $607,419.02 out of $4,049,460.12 for the purchase of 26 ambulances that were never delivered, paying an unapproved amount of GH¢151,500 by the Information Ministry to its own staff as Covid -19 insurance, and paying for $ 80million worth of vaccines by the government that was never delivered.

AM/KPE