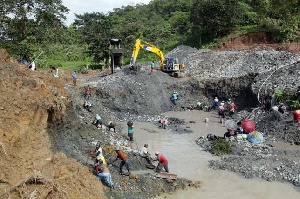 The Australian High Commissioner to Ghana, Andrew Barns has lauded the Akufo-Addo-led government for boldly tackling the issue of galamsey in the country.
The High Commissioner who spoke exclusively to 3FM NEWS said "we commend the government for their seriousness in approaching the galamsey issue; they are not shying away but recognizing that it can't be ignored". He added, "We'd like to give credit to the new government and new minister for Land and Natural Resources, John Peter Amewu for his excellent work in tackling the issue which is a problem for a lot of people".

The Ambassador noted that the issue of galamsey has become an issue of concern because "it is bad for the environment, poisoning the water bodies degrading the agricultural land, threatens Ghanaians who work in the mining industry…the menace cheats the government of revenue and is a disincentive for investment".

Ambassador Andrew Barnes indicated that the Australian government is in firm support of the Ghanaian government's fight against illegal mining.
"We are working in partnership with them; we're helping to sponsor a stakeholders engagement meeting later in the year to bring all concerned to talk about the issue. "We see this as an issue that has to be tackled so we are keen on working with the Ghanaian people on it," he added.

Government is waging a relentless war against illegal mining as a result of the devastating effect galamsey has had on land, water bodies and other natural resources in the country.