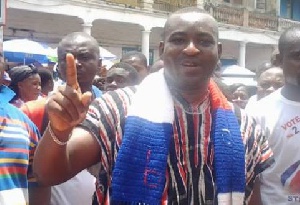 A staunch member of the New Patriotic Party (NPP) in the United States of America, Danny Opoku Antwi has told Kumasi-based Fox FM that the party in the Ashanti Region has been taken over by some greedy and selfish Regional Executives.
According to him, the Regional Chairman, Mr. Bernard Antwi Boasiako who is popularly known as Chairman Wontumi has been compromised by some aspiring parliamentary candidates in the orphan constituencies and is doing everything within his means to make such candidates go unopposed in the upcoming primaries for the orphan constituencies.

This according to Danny who spoke to Oheneba Nana Asiedu monitored by MyNewsGh.com, is a recipe for apathy and chaos for the party if allowed to stand and a smacks in the face of the party's touted democratic credentials.

"My party is in tatters in Ashanti Region. The national leadership should conduct an independent research to find out if what I'm saying is true or false. Don't wait till last minute, because it will be too late if you look on now. All is not well in the region. Some Regional Executives are there to settle personal scores not the interest of the party. Selfish and greedy people are in control. You will thank me later if you act now to save the party from falling into the doldrums. It's time to show leadership and stop the rhetoric",Danny Opoku Antwi stated.
Danny also pointed out that, there is a grand scheme to impose most of the sitting MPs in Ashanti Region who are not performing on their constituencies which Chairman Wontumi has started in the orphan constituencies and if allowed to hold will be a catalyst for disaster at primaries of the sitting MPs.

"With the unopposed agenda being spearheaded in the orphan constituencies within the region by Bernard Antwi Boasiako (Chairman Wontumi), if allowed to hold would be precedence for Wontumi to impose sitting Members of Parliament (MPs) on their constituents even if they are not performing. This is an intelligence I picked from Wontumi's confidante, the orphan constituencies are just a dress rehearsal" he added.

In conclusion he said "The constitutional mandate of the polling station executives where the party get our votes are being taken from them through mafia and crooked means by Wontumi because of his selfish interest"