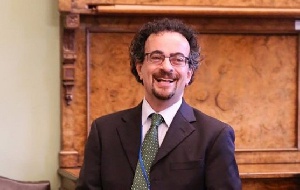 A former lawmaker in Ghana, together with three sitting MPs, have been cited in separate alleged visa offences by the UK government.
A "confidential letter" signed by the British High Commissioner, Jon Benjamin and addressed to the Speaker of Parliament, Mike Oquaye accused the MPs of "Visa fraud".

The four: Richard Acheampong, MP for Bia East in the Western Region; Joseph Benhazin Dahah, MP for Asutifi North (Ntotroso) in the Brong Ahafo Region; Johnson Kwaku Adu, MP for Ahafo Ano South West in the Ashanti Region; and George Boakye, a former MP for Asunafo South are facing a 10-year visa ban due to the visa fraud.

During Friday's edition of 'Kokrokoo' hosted by Kwami Sefa-Kayi, Kojo Adu-Asare, a former Member of Parliament for Adentan constituency and National Youth Organiser of the New Patriotic Party (NPP) spoke to the issue.

Kojo Adu Asare

According to the former legislator, Ghanaians are fed up with Jon Benjamin's involvement in 'every' issue that goes on in the country.

He does not understand why the UK High Commissioner is 'poking his nose' into every issue when other foreigners are helping villages and other deprived areas with boreholes and other aids.
"We are tired of him; if he is not speaking against journalist then it is a politician. We are fed up with him. It is becoming one too many. We've seen too much of his involvement in local issues. What is my use if as a public office holder I am not able to get facilitate visa acquisition for a relative?"

Sammy Awuku

The National Youth Organiser of the New Patriotic Party believes the situation could have been managed in a different and better way.

According to him, it could have been discussed and solved behind closed doors.

"He (Jon Benjamin) overstretches issues beyond diplomacy and it is worrying…having diplomatic immunity does not mean you should abuse it…he speaks to every issue, everything and sometimes it is worrying. This kind of humiliation is becoming one too many from the commissioner… It is however a big lesson for people in public offices" he said.