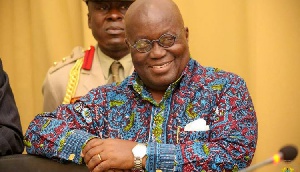 Awulae Attibrukusu III, Chief of Axim on behalf of the Chiefs and of people of Axim has commended President Nana Addo Dankwa Akufo-Addo, for the introduction and implementation of the Free Senior High School Policy.
According to Awulae Attibrukusu III, some one thousand two hundred students (1,200) students being beneficiaries of the Free SHS policy in the Axim area, with more students were expected to be enrolled in September this year into schools located in the traditional area.

"We thank you for the introduction of Free SHS system, to help parents and guardians across the country, especially those in the rural areas," he said.

The Axim Chief further said, "Mr. President, you always keep your promise. When you pledge, you fulfil. You said you were going to bring us Free SHS, and you have fulfilled that pledge. We thank you, and may we give you an applause for what you have done."

Awulae Attibrukusu III made this known on Sunday when he delivered a speech at the Kuntum Festival of the Chiefs and people of the Axim Traditional Area, which was attended by President Akufo-Addo.
Expressing his appreciation to the President for the on-going projects in Axim area, including the construction of a sports complex in Axim, the Chief of Axim, in particular, thanked the President for the imminent construction of the Axim sea defence wall.

He noted that since his enstoolment on 10th August 1988, he ha at every Kuntum festival, appealed to successive governments for the construction of the sea defence wall.

"I am happy that, today, we are going to see the light, and, as you promised during your campaign time, when you were at my palace, you said to me, 'Awulae Attibrukusu, I promise that, if, God willing, I am given the mandate, Axim Sea defence wall will be the first project that I will do for you," he said.

He therefore, thanked President Akufo-Addo for fulfilling his pledge, and stated that "the people of Lower Axim, Upper Axim and all the people of Axim are grateful to you. We will ensure this project proceeds smoothly, and we will make sure the project is completed on time."