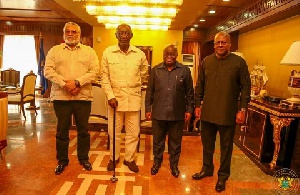 The founder of the All People's Congress (APC), Hassan Ayariga, has applauded President Nana Addo Dankwa Akufo-Addo, for meeting all the three former Presidents of the Republic to discuss issues bordering on governance and has urged him to extend such invitation to all presidential candidates in last year's polls.
"I must applaud the President for meeting with the former Presidents. At least he can pick something from them but not only the former presidents should he meet; he should meet even presidential candidates so that they can help him in building this country. That is the way forward for our nation," Mr Ayariga said on Accra-based Joy FM on Friday 21 April.

Mr Akufo-Addo on Tuesday April 18 invited the three former Presidents – Jerry John Rawlings, John Agyekum Kufuor, and John Dramani Mahama – to a meeting at the Presidency.

Its purpose was to seek their views on some governance-enhancing measures his administration intended to take.
The closed door meeting, which lasted two hours, according to a communiqué, was held in a good atmosphere, one of frank exchanges and mutual respect. It added that Mr Akufo-Addo intended to have further meetings with the three former Presidents in future.