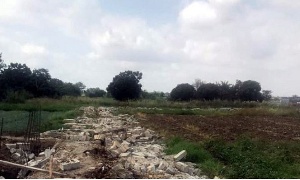 Founder of All People's Congress (APC), Hassan Ayariga, has sued the Ga East Municipal Assembly (GEMA) for demolishing his twelve-feet fence wall and a security post being constructed on a two-acre land he purchased at Haatso in Accra.
The lawsuit filed on Wednesday, September 05, 2018 at the Accra High Court avers that the demolition by the assembly was illegal and constituted a trespass and unlawful interference with his civil and constitutional rights.

The lawsuit was filed on behalf of Dr Ayariga by his Counsel, Justice Yakubu Abudlai Esq.

The lawyer explained that the demolition of the property, which is close to the Ghana Atomic Energy Commission (GAEC), was done without notice to the owner neither was due process followed.

Meanwhile, a statement of claim accompanying the lawsuit states that the Plaintiff, Dr Ayariga, is claiming damages to the tune of GHS1,239,500 as "general damages for trespass, general damages for destruction of the wall and cost including legal fees."

The statement of claim further states that the Plaintiff sometime in 2012 acquired some parcels of land approximately two acres in size at Haatso in the joint name of his [Dr Ayariga's] wife—Mrs Anita Ayariga.

"Plaintiff asseverates that they purchased the said parcels of land for the purpose of constructing a playground with other ancillary facilities for the surrounding communities as part of their philanthropic works and their contributions to the development of Ghana," the writ said.
According to the Plaintiff, after acquiring the land they immediately took possession of it.

This, the Plaintiff indicated, was done by putting some people on the land who were engaged in vegetable farming for many years who were also in charge of protecting the land.

The Plaintiff in the writ continued that in the first quarter of the year 2018, they commenced construction of block fence wall around the parcels of land to safeguard the land from possible encroachers amongst other reasons.

However, in June 2018, the Plaintiff averred that officers of the GEMA approached the Plaintiff for the purposes of securing a building permit for the fence constructed "which the Plaintiff issued a cheque together with other documentary requirements for the issue of the building permit as requested."

After some back and forth with officers of the Defendants, the cheque issued for the permit was returned with the excuse that they preferred cash payment which the Plaintiff resisted ostensibly to avoid pilfering of government resources," the writ states.

Against this backdrop, the writ indicated that "out of anger and show of brutal force, officers of the Defendant under the guise of undertaking their usual and or lawful activity, in the company of some police and military officers, in July 2018, demolished portions of the fence wall which was at 8 feet high, despite the resistance of Plaintiff and his workers who were at the time working on the land."