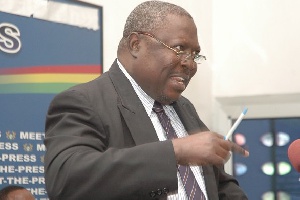 Special Prosecutor, Martin Amidu has accused Member of Parliament for Tamale Central, Mahama Ayariga of obstructing his duties.
The no-nonsense public officer is alleging that the legislator sent chiefs, pastors and other influential personalities to come and beg him to stop investigating him.

According to Martin Amidu, he is investigating the MP on suspicion of commission of corruption and abusing his office by importing three Toyota Land Cruiser V8s into the country, added that Mr. Ayariga refused to honor an invitation by EOCO over the matter.

"The suspect refused to report to the offices of EOCO in Accra as demanded by a publication at page 26 of the Daily Graphic of 20th June, 2018 with vehicle numbers GR 2220-18, GR 2221-18, GR2222-18, GT 2243(sic)-17 and GT 4054-13, consequently, it fell on me to write to the Speaker of Parliament with a copy to Honurable Mahama Ayariga (the suspect) in my letter dated 26th June 2018 to release the suspect to report to the EOCO on 3rd July, 2018," he said.

"When the suspect, Honourable Mahama Ayariga receive his copy of my letter to the Speaker, he immediately started to get people who he perceived could put pressure on me (such as personal friends, former colleagues, chiefs, men of God etc.) to abate the investigation being conducted in the performance of my functions under Acts 959 and Act 804," Martin Amidu added.

"I asked the EOCO on a number of occasions to warn the suspect to desist from his conduct of obstructing the investigation by soliciting others to put pressure on me to abate same to no avail….I have accordingly, on 3rd August 2018, requested the EOCO to investigate my complaint against the suspect for obstructing me, the Special Prosecutor, in the performance of the functions of my office as the Special Prosecutor," the statement said.


Martin Amidu further noted that Ghanaians must respect his oath and pledge during his vetting to remain fair and not tolerate "any interference or obstruction from anybody or organ of Government other than the courts of law in the performance of the independent functions of my office even if the culprit were my only brother."struct investigations, Ayariga has persisted with getting people close to him [Amidu] to get the inquiry abated.



Mr. Amidu said he therefore on August 3, 2018, officially reported the matter to the EOCO and asked it to investigate the complaint of obstruction by Mahama Ayariga to the investigation.