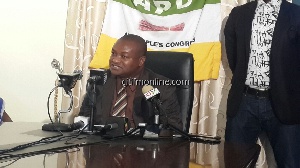 A day after the Progressive People's Party (PPP) had a go at the Electoral Commission, Ghana (EC) over the disqualification of its flagbearer, the All People's Congress takes its turn in court on Wednesday.
An Accra High Court is expected to hear the case brought against the Commission by APC.

APC's founder and leader, Hassan Ayariga, was among 12 candidates disqualified by the EC for various irregularities regarding their 2016 presidential nomination forms.

In the case of Mr Ayariga, he is said to have failed to provide evidence on his statutory declaration as regards his hometown or residence in the constituency as per legal requirement.

He was coincidentally the first presidential aspirant to have been declared disqualified from the 2016 polls.
Two of his subscribers were also flagged by the Commission, whose chair made the announcement on Monday, October 10.

But the party challenged the EC's decision, serving it a writ last week.

Wednesday's sitting will be the second in a row for EC's lawyer Thaddeus Sory.