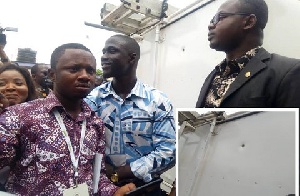 The commissioners probing the Ayawaso West Wuogon Constituency by-election shooting incident have taken record of 19 bullet marks on trees, cars and metal containers in the area.
The bullets described as high ballistic bullets were fired on January 31, 2019 during the by-election.

Ballistic Expert at the Forensic Science Laboratory of the Criminal Investigations Department (CID) of the Ghana Police Service, Michael Cudjoe showed the bullet Marks to the Commissioners on March 1, 2019.

Justice Emile Short, Chairperson of the Commission, Prof. Henrietta Mensah Bonsu, and Patrick Acheampong, both members of the Commission arrived at the La Bawaleshie Presbyterian Basic '1' around 9:30am on Friday March 1, 2019 to commence the inspection.

The visit is to enable the Justice Emile Short Commission inspect and fully examine the scene of the impugned events and environment surrounding the conduct of the by-election on January 31, 2019.

There were six recorded bullet marks on three out of the four trees in front of the residence of Delali Kwasi Brempong, the parliamentary candidate of the NDC during the by-election.
A metal container in front the candidate's La Bawalashie residence also had three bullet marks, and wall pillar at the same place had one bullet mark.

The ballistic expert told the Commissioners that there were two bullet marks recorded on a red pickup. Another pickup in the same surrounding registered GE 3844-16 had one bullet mark.

There were also bullet marks on a metal container being used as a beauty saloon.

The School was one of the polling station used for the violent election in which a shooting incident reportedly left six persons injured.

The shooting incident was said to have taken place at the residence of the parliamentary candidate of the National Democratic Congress (NDC), Delali Kwasi Brempong.
The Commissioners are being briefed about the incident on that day by Detective Inspector Sulley Jallo of East Legon Police Division.

Justice Short says it was important to locate the scenes of incidents and relay them to the testimonies of witnesses to the locations.

He said " we are not going to take testimonies of witnesses. "

Today is day nine of the Commission's sittings after its establishment by Vice President Mahamudu Bawumia in February with consent from President Akufo-Addo.