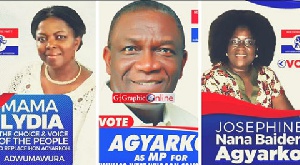 Deputy General Secretary of the ruling New Patriotic Party (NPP) Obiri Boahen has described the battle the wives of late Ayawaso West Wuogon MP, Emmanuel Agyarko, as unfair, disrespectful, untraditional and called on the party leadership to call them to order.
According to him he does not understand why people should battle for a seat whose occupant is yet to be buried and it sends wrong signals among the wives that they do not have very little respect or grief about the unfortunate incident.

Hon. Emmanuel Kyeremateng Agyarko died on November 21, 2018, from a prolonged illness, and he's yet to be buried.

While a date is yet to be fixed for a bye-election, posters of both widows, Lydia Agyarko and Naana Agyarko, have emerged, indicating their interest in contesting for the late MP's seat.

"We must respect the dead, we must respect the party and the Leaders of the party, we must respect the party's democratic credentials, we must respect tradition, and we must respect Agyarko and his family" he stated.

Speaking Otec News' Kwaku Anane Jnr., on Tuesday, December 11, 2018, Nana Obiri Boahen said " it is unfair and disgrace for people to battle for the seat of the late Member of Parliament who has not been buried."


"This should not be tolerated at all, we are not demonstrating our love for the late MP. Somebody has died, electoral commission has not opened nomination forms for the by-election, the party has not met on that and people are fighting for his seat, we must respect the dead" he added.

Nana Obiri Boahen said Ghanaians should not tolerate that and urged the media not to give the rivals opportunity to display their "selfish interests".