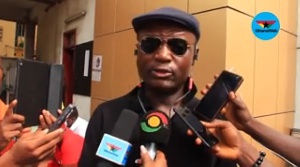 Former National Organizer of the main opposition National Democratic Congress [NDC], Kofi Adams says it's a 'total waste of time' to set up a commission of inquiry to investigate the disturbances that marred the Ayawaso West Wuogon by-election.
According to him, previous commissions set up by successive governments to investigate similar occurrences were ineffective, claiming they oftentimes did not even come up with "reasonable" findings.

The Vice President, Alhaji Dr. Mahamudu Bawumia announced that government had set up a Commission of Inquiry to probe circumstances that led to the violence that occurred during the Ayawaso West Wuogon by-election.

The Commission was set up with the consent of President Nana Addo Dankwa Akufo-Addo who is out of the country.

A former Commissioner at the Commission on Human Rights and Administrative Justice (CHRAJ), Justice Emile Short is the Chairperson of the Commission while former Dean of the Faculty of Law of GIMPA and private legal practitioner, Mr. Ernest Kofi Abotsi has been appointed as Secretary to the Commission.

Other members of the Commission are Henrietta Mensah Bonsu and Patrick K. Acheampong.
The setting up of the commission followed the shooting incident that occurred near a La Bawaleshie polling centre that temporarily disrupted the Ayawaso West Wuogon by-election and resulted in at least seven persons sustaining injuries.

But speaking on NEAT FM's evening political program, 'Torchlight' – Mr Adams said "This commission of inquiry will not help this country."

"They don't come out with any meaning findings after their sitting. There are videos to arrest the offenders and prosecute them. We don't need any commission of inquiry, government should arrest those in the video and prosecute them, simple!" he told host Mac-Jerry Osei Agyeman .

"This government is not serious with regards to the safety of Ghanaians," he added.