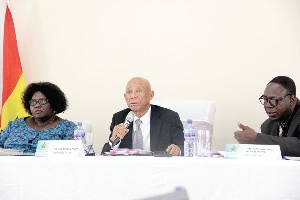 The Commission which has been established by President Akufo-Addo to probe the violence that characterised the Ayawaso by-election in January this year will round up its public sitting today March 7, 2019.
The Commission led by Justice Emile Short has been hearing the accounts of key individuals and witnesses who had a role to play or partook in the polls which elected the NPP's candidate to parliament.

The commission which was given a month to work by the President has been told different accounts of the incident, especially massive variations on the number of gunshots fired during the melee.

Some of the notable individuals who have appeared before the commission include the IGP, National Security minister, heads of various important units in the Police and high ranking politicians. Others include media personalities and NGOs who monitor elections in the country.

Six people were shot at the Baweleshie polling centre of the constituency, compelling the opposition National Democratic Congress (NDC) to withdraw from the exercise citing safety concerns.

Voters were electing a new Member of Parliament (MP) for the area in the by-election necessitated by the demise of the incumbent Emmanuel Kyeremanteng Agyarko last year, representing the governing New Patriotic Party (NPP).
The by-election was won by Lydia Seyran Alhassan, a spouse of the late MP on the ticket of the governing NPP, collecting over 60% of the total valid votes cast.

Some masked security personnel who arrived at the premises were in SWAT inscribed vehicles and in some cases were being driven by people in Police uniforms.