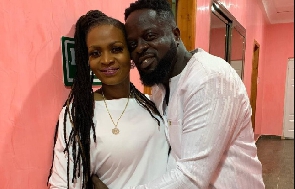 Highlife musician, Ofori Amponsah, has opened up on his current relationship with controversial socialite, Ayisha Modi.
'MrAll4Real, as he is popularly known, has established that Ayisha Modi is his wife and they are currently together.

Prior to his statement, social media had witnessed a series of posts from Ayisha Modi, recounting old times with Ofori Amponsah, with whom she has a 16-year-old child.

Earlier in an interview with Delay, Ayisha Modi stated that she got married to the highlife singer at age 18 and he was the one who broke his virginity.

She also disclosed that their marriage crashed in 2012.
"I got married to Ofori Amponsah at age 18 when I had my first child who is currently 16 years. This marriage lasted for a few years and after that, we reunited as friends and I also helped him on a few of his projects.

"I have known Ofori Amponsah for almost 17 years. He is my first boyfriend who broke my virginity so we have a great bond. We are currently good friends," she stated.

But in a recent interview on Accra FM, Ofori Amponsah said he and Ayisha Modi are still together.

"She is really my wife,' he said.
Asked if he made the statement just for the fun of it, the 'Odwo' hitmaker said: "We are still together. Although we have broken up and made up several times, which is normal, we are still together."

Halfway through the conversation, a listener sent in a message saying he can attest to the fact that Ofori Amponsah and Ayisha Modi once lived in Sowutuom as a couple and the singer responded, "Yeah, It is true. Then he really knows."

Ayisha Modi on being married to Abass Sariki

Not too long ago, Ayisha Modi disclosed that she is married to a certain rich and popular Sowutuom Chief, identified as Abas Giwa Sariki.
In a post directed at critics who doubted her marriage, Ayisha claimed to be the second wife and the chief's favorite.

"There was someone before me. There was a wife before me and I don't have a problem with that because it is my culture. Even my mother is a second wife. It is not right for me to resist my husband if he wants to marry another wife again. I am not a timid wife; I work for my money. If you're a woman that makes your own money, men will respect you.

"They won't treat you anyhow. When a man pulls out one billion from his pocket and you also pull out five billion from yours, there is respect, and that is why I am my husband's favourite. He is not just my husband; he is my brother. The women will come and go, but I will forever remain unmovable. Looks like you people are too stubborn. Stop talking about Sariki and me. We are inseparable and unshakable so stop talking about us," she stated in a TikTok live.

Check out the post below:






EB/BB