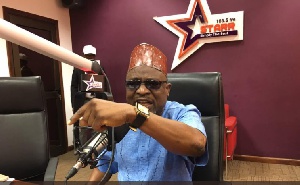 The National Democratic Congress (NDC) Member of Parliament for Sagnarigu, A.B.A. Fuseini says President Akufo-Addo made the wrong call in appointing Mr. George Ayisi Boateng as Ghana's High Commissioner to South Africa.
Mr. George Ayisi Boateng on Saturday, 28th, October, 2017 publicly stated that his priority as a government representative in that country is the members of the New Patriotic Party (NPP) before any other Ghanaians.

Following pressure from the Ghanaians especially the Minority in Parliament, the Ghana's Ambassador to South Africa in a statement on Wednesday, 1st November, 2017 retracted and rendered an unqualified apology for his divisive and provocative remarks.

According to Fuseini,"He is in the wrong profession. He is in the wrong office and I think President Akufo-Addo should have seen this even long before some of us; he made the wrong choice. He is also his representative in South Africa, he interrogated, Can you imagine what this man can do at the gathering of his own fellow diplomats when they go there?
Fuseini added that, "The NPP has scored one more point. That they can go and bring us shambolic envoy like George Ayisi Boateng to represent the country outside."

"I think that the most decent thing to do is to fire him. The President is finding it difficult to fire Mr. Ayisi Boateng...It is no longer about his personal relationship but about the national interest of Ghana. It is about upholding the law and constitution of this republic which are higher than him and any other citizen," he opined.