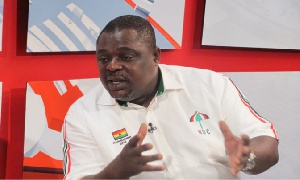 Deputy General Secretary of the opposition National Democratic Congress (NDC) in charge of operation has given an indication that embattled Ghana's High Commissioner to South Africa, George Ayisi-Boateng will be chased like a rat out of the rainbow country in a day time.
He hinted that very soon, he will go on a relay without a button back to Ghana because the opposition NDC is set to mount pressure on the South African government to chase him out over his divisive comments.

"If Nana Akufo-Addo refuses to sack him, we will pressure the South African government to chase him out of the country because he is not behaving like a High Commissioner", he disclosed on Okay FM on Monday.

According to him, allowing such a character to continue to represent the interest of Ghana in South Africa is a recipe for chaos reiterating his earlier stance Mr Ayisi Boateng has not been forgiven for his comments.
He believes Mr. Ayisi Boateng deserves to be sacked from his post to afford him chance to learn proper diplomatic behavior.

"Yes, Ayisi has apologized but we won't accept his apology today or tomorrow. He needs to be sacked because he himself is not Ghanaian enough to occupy such position. In fact, we are ready to start a movement and appeal to the South Africans to bring him home" he said.

Mr Anyidoho who believes Mr Ayisi Boateng was forced to apologize indicated that it appeared the High Commissioner was only taking a cue from his boss, President Akufo-Addo wondering what sort of training the government offers its envoys these days stating that they need to undergo proper training before any appointment is given them.