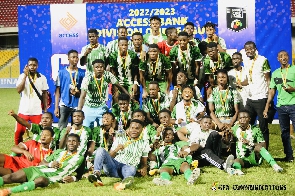 Former BA United striker Daniel Bomfah says the club will follow the footsteps of rivals Bofoakwa Tano to secure qualification back to the Ghana Premier League.
Bofoakwa secured their promotion in a thrilling playoff match against Techiman Eleven Wonders, held at the Accra Sports Stadium on Tuesday.

The match ended in a 1-1 draw after regulation time, leading to a tense penalty shootout. Bofoakwa ultimately emerged victorious, triumphing 7-6 in the shootout and securing their well-deserved place in the prestigious Ghana Premier League.

In an interview, Bomfah commended Bofoakwa for securing Ghana Premier League return but said his former club, BA United will follow suit and make a return to the top-flight next season.
"I'm a fan of BA United and everyone knows the rivalry between us (BA United and Bofoakwa Tano) but truth be told, I'm happy with their qualification to the Ghana Premier League. Next year, we will also qualify by following the footsteps of our rivals"

"The competition becomes intense if we are playing in the same competition, so once Bofoakwa has return to the GPL, we also have to work hard and secure qualification next season to make the competition between us great. BA United and Bofoakwa Tano's games are always difficult, a lot of things go into it"

Bofoakwa Tano join Heart of Lions and Nations FC for next season's Ghana Premier League campaign.