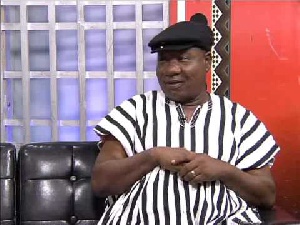 NDC Central Regional Chairman, Allotey Jacobs has categorically stated that the Okyehene, Osagyefo Amoatia Ofori Panin is not involved in any illegal mining activities.
A BNI report named the Okyehene as one of the galamsey kingpins.

A 31-page report by the BNI, which has not yet been released, reportedly cited some Chiefs and political figures in the country as being involved in the illegal mining.

The report focused on districts in eight out of the 10 regions of the country where galamsey takes place.

Speaking on 'Kokrokoo' on Peace FM, Allotey Jacobs confidently stated that the Okyehene cannot be indicted by the BNI report to have any connections with illegal mining, popularly called galamsey.
He dared the BNI to release the report into the public domain so as to clarify issues.

"I don't personally believe that this great Chief is involved in galamsey . . . As I'm speaking now, BNI, they're not doing this government any good. They have not come out with the statement. The statement has not circulated to the media for us, ordinary citizens, also to read. So, we don't know what is entailed in that BNI report," he said on 'kokrokoo'

Meanwhile, the elders of the Akyem Abuakwa Traditional Council in the Eastern Region are reported to have stormed the offices of the BNI to register their displeasure with the report.