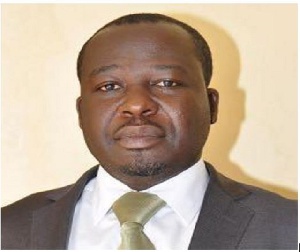 An activist of the opposition National Democratic Congress (NDC), Sammy Gyamfi has observed that the continuous stay in office by the embattled Managing Director of the Bulk Oil Storage and Transport Company Limited (BOST), Alfred Obeng Boateng smacks of gross disrespect to Ghanaians.
He indicates that a scandal of that magnitude he is alleged to be involved in does not warrant his continued stay in office if the current government is truly committed to fighting corruption as trumpeted.

Five million litres of fuel product was declared off-spec after going through an in-house technical assessment and a laboratory test by the Tema Oil Refinery. It followed what BOST termed as "human error" which led to the contamination of the product which is said to have resulted in GH ¢7 million loss of revenue to the state.

Calls have been intensified for the immediate interdiction of Alfred Obeng Boateng because he is alleged to be complicit in the entire stinky deal.

The Bulk Oil Storage and Transportation (BOST) however says, the controversy over the sale of contaminated fuel is serving no purpose other than to distract from the financial rot overseen by the immediate past BOST Managing Director, Kingsley Kwame Awuah-Darko.

But Mr Sammy Gyamfi believes Ghanaians will only take the MD, serious over the Company's latest scandal when he resigns for proper investigations to be conducted.

"Mr. Alfred Obeng should immediately resign over this matter if he has conscience and integrity to protect. I don't think he should have been in office even a single day looking at the fraud and criminality in this expose. The whole issue is fraudulent." he opined.
In his view, the current controversy at BOST should be litmus test for the president to confirm his true intent to fight corruption in the country.

"If President Akufo-Addo is to be taken serious in the fight against corruption, I think this is another test case he must deal with decisively. The MD must be asked to resign or be sacked from office immediately", he demanded.