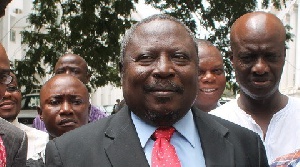 The Special Prosecutor, Martin Amidu, has served notice that his office intends to probe the alleged shadiness of the sale of some 1.8 million barrels of crude oil by the Bulk Oil Storage Transportation Company (BOST).
The Chamber of Petroleum Consumers (COPEC) petitioned the Office of the Special Prosecutor in March to launch a forensic audit into the alleged sale at a discount, leading to the loss of GH¢23 million in revenue to the state.

In a letter acknowledging receipt of the said petition, Mr. Amidu said after carefully reading the petition, he has directed that "it [petition] be brought to the appropriate division for further actions as soon as it is established."

According to him, he is currently, trying to see to the composition of the core basic organs of the Special Prosecutor's Office as provided by law that will render it functional for the purpose for which it was established and "will hopefully be completed soonest" to enable complains like COPEC to receive the appropriate prompt consideration.

That notwithstanding, Mr. Amidu urged the Chief Executive Officer of COPEC, Duncan Amoah to be "in readiness to provide any further and better particulars of your complaint should it be required."
The Office of the Special Prosecutor was established under the Akufo-Addo government to deal with corrupt public officials.