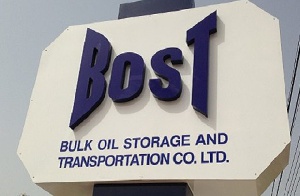 The Bulk Oil Storage and Transportation Company Limited (BOST) is calling for an increment of its BOST Margin from 3pesewas to 9pesewas.
Making the call was the Managing Director(MD) of BOST Mr. Edwin Provencal, who revealed an increment was needed now to cushion the effects of the fall in fuel prices.

The upward adjustment is being called for to help aid the company to render some key services such as Maintenance and expansion.

Mr. Provencal also stated that had the BOST Margin been increased since 2011, the company would have been able to maintain some decommissioned storage units which would have been able to help in this current situation where boarders have been locked down to have enough storage for consumes in the country for the next three months.

The MD revealed the company could not increase the capacity to store more products at this time because they lacked the money to go through with maintenance and building of infrastructure.

"I call on all Ghanaians to support to support our call as the consumers, in the long run, will benefit from the effective and efficient running of BOST. If we had been increasing the BOST margin over time as the year went by since 2011, I'm sure the three decommissioned storage units would be available to store some products and we would have taken advantage of the opportunity that has come today." He disclosed.
He went on to add that, "sometimes it is just about doing the right thing if you're not maintaining the structure and it deteriorate and the opportunity comes , there is no infrastructure to take over the opportunity. So that is why we are pleading with Ghanaians to support as in this regards because in the long run, consumers benefit at the top"

Mr Provencal stated that the coronavirus pandemic has led to a drastic fall in fuel prices and increased pressure on supply, therefore, making it necessary for BOST to call for an increase in the BOST Margin.

He assured Ghanaians that if BOST got the support it needed, the company will start paying dividends by 2021 which will be a legacy he will like to leave behind.

In December 2019, the National Petroleum authority reversed a decision to increase the BOST Margin to 6pesewas after the Chamber of Petroleum Consumers (COPEC) kicked against the move.