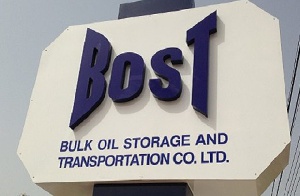 The Bulk Oil Storage and Transportation Company Limited (BOST) has written to the editor of The Herald newspaper to "do the needful" or force a court action over a news article in the Monday, December 18 edition.
The article headlined 'Another Multi-Million Cedi Scandal Hits BOST – Details Coming Soon' was posted in the right corner of the front page of the newspaper. But BOST says it is unaware of any such "scandal".

In a letter to the editor on Monday, BOST said the tabloid acted unprofessionally as its doors are open "to seek any information you need to enable you to come out with credible headlines devoid of any untruths".

"Any attempt to spread falsehood about BOST will not be countenanced.
"Should that be the case, BOST will not hesitate to seek legal redress to serve as a deterrent," the letter jointly signed by BOST's Head of Legal Services and its Media Relations Manager said.

The letter is said to have been received by Abdul Razak Bawa for editor Larry Dogbe, who is said to be writing his examinations.