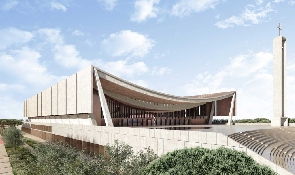 A committee to probe matters surrounding the construction of the National Cathedral of Ghana is to be set up by parliament.
This follows the admittance of a private members' motion made by the Minority in parliament, by the Speaker of Parliament, Alban Bagbin.

According to a citinewsroom.com report, this committee will also make appropriate recommendations for the consideration of parliament on the matter in question.

In the last year and over, discussions around the construction of the National Cathedral have been centered around several controversies.

The project has also received stiff opposition from many quarters, with a section of the public being of the view that the project should no longer be considered a matter of national concern, especially when Ghana's economy is struggling badly.

But President Nana Addo Dankwa Akufo-Addo has been unrelenting, making several comments on the fact that he is bent on completing the project, which, for the avoidance of doubts, is one he says is a fulfilment of a personal pledge he made to God.

Beyond that, the Member of Parliament for North Tongu, Samuel Okudzeto Ablakwa, has been serialising some details about the Secretary to the Board of Trustees of the National Cathedral, Rev. Victor Kusi Boateng, in what are believed to be corrupt practices.
The MP has also disclosed how the preacher has more than one official name that he operates with.

In a recent development as well with the National Cathedral, it emerged that in January 2023, the secretariat had resolved to subject the project to a "normal statutory audit."

Following this, the National Cathedral Secretariat are said to have engaged the services of an audit firm, Deloitte.

"The Board is already in discussions to engage Deloitte, which accepted to be the auditors when the National Cathedral was registered, to commence the normal statutory audit," the Board, through its Chairman, Apostle Prof. Opoku Onyinah, said.

These issues and others, including some resignations by member of the Board of Trustees, have necessitated the move by the Minority in parliament.

AE/OGB