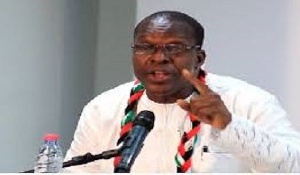 National Organiser of the National Democratic Congress (NDC), Kofi Adams has denied media reports that Second Deputy Speaker of Parliament, Alban Sumana Kingsford Bagbin has been summoned before the party's disciplinary committee over his recent acerbic attacks on some persons.
Mr Bagbin in his recent visit to the Volta Region launched unprovoked attacks on some former appointees of the John Dramani Mahama administration.

He was reported to have said the appointments of former Deputy Minister in charge of tertiary education, Samuel Okudzeto Ablakwa, former Minister for Chieftaincy and Traditional Affairs, Dr Henry Seidu Daanaa and former Communications Minister, Dr Edward Omane Boamah cost the party in the 2016 elections.

Mr Bagbin's arguments were that Mr Ablakwa though is an intelligent young man, his appointment was misplaced.

"We had very good material in our last government but the placement was wrong. Look at my son-in-law Ablakwa; brilliant handsome young man but he had problems before he got his certificate at Legon. You recall they almost rusticated him.

In the case of Dr Omane Boamah, he said "It is not the chief that speaks, it is a linguist…and so when you are a leader, you must have a good linguist. When Prof was in power, Haruna Iddrisu was our linguist in charge of communications right", he asked party communicators in the Volta Region.
Continuing his argument he said "When my brother John came to power he substituted him for Dr Omane who is a natural stammerer….who is a natural stammerer", he repeated.

He observed that the refusal by the then President to reshuffle the Chieftaincy Minister also cost the party saying "there were some of these mistakes that cost us dearly. Let me cite another example, in our tradition if you are not whole can you be a chief or grandmother? So if you form a government and make the minister of Chieftaincy a blind person and the chiefs are objecting and you don't change him what are you telling the chiefs", he asked party communicators during his tour of the Volta Region to solicit the support of delegates"

There have been calls for him to appear before the disciplinary committee of the party over the comments but Mr Kofi Adams on a Kumasi-based radio station MyNewsGh.com has denied the party has summoned Mr. Bagabin.

"So far, there has not been anybody who has officially complained about his behavior. He disclosed.