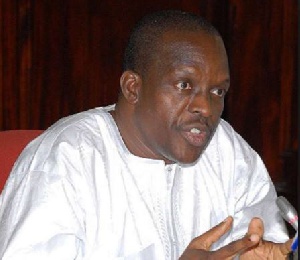 The Second Deputy Speaker of Parliament, Alban Kingsford Sumani Bagbin, is expected to appear before the Criminal Investigations Department (CID) of the Ghana Police Service today.
The invitation to the place is in connection with the ongoing probe into the double salary scandal that has rocked the opposition National Democratic Congress (NDC).

Some of the ministers and deputy ministers, who served under then President John Dramani Mahama and his NDC government (2012- 2016), are being investigated by the police for allegedly collecting double salaries, some for about a four years, and Mr Bagbin's name features prominently.

Mr Bagbin, NDC MP for Nadowli Kaleo in the Upper West Region and former minister, according to sources, has been booked by the police for interrogation today; and he is expected to be at the CID headquarters with his legal team.

Top-up alibi

Some NDC elements, after cynically claiming that the New Patriotic Party (NPP) government is witch-hunting them, are now admitting that, indeed, the double salary payment happened.

However, they are now pushing the argument that the payments were 'top-ups' for the affected ministers and not the actual monthly salaries as being claimed by their political opponents.
It emerged that some of those who were MPs and were appointed as ministers at the same time by President Mahama were supposed to take one salary for the double job, but they allegedly drew salaries as MPs and again as ministers every month in clear breach of the law.

Insiders accused

Already, Mr Bagbin appears to be pointing accusing fingers at elements in his own party for leaking the double salary information to the public.

Official charge

According to the police, the alleged double salaries saga "is contrary to Section 124 (1) of the Criminal and other Offences Act 1960 (Act 29), as amended in 2012 (Act 849). Section 124 relates to the offence of stealing."

Dramatic twist
The scandal took a dramatic twist when the Special Prosecutor, Martin A.B.K. Amidu, waded into the debate and appeared to give tacit endorsement of the move by the police to prosecute the former appointees and MPs who might be involved.

Mr. Amidu, a former Attorney General and Minister of Justice, said on Citi FM last Thursday that if his former colleagues were found to have violated the law, they should not go unpunished.

"Indeed, that (double salary) is an offence of abuse of office for private gain," he said without mincing words, before revealing that he also received double payments when he served as minister under the NDC administrations but added that he returned the excess money to the government.



Police invitation

The double salaries scandal appears to have rattled the opposition NDC which MPs – some past and present – have been visiting the police to assist in investigations over their respective involvements in the saga.
Last Wednesday, Fifi Fiavi Kwetey, former Minister of Transport and MP for Ketu South; Abdul Rashid Hassan Pelpuo, former minister of state at the presidency and MP for Wa Central and Aquinas Tawiah Quansah, former Central Regional Minister and former MP for Mfantseman West, were interrogated by the police over the scandal.

Bail

Before then, Emmanuel Armah-Kofi Buah, MP for Ellembelle and former Minister of Energy and Petroleum and Nii Laryea Afotey Agbo, MP for Kpone Katamanso, who was the former Greater Accra Regional Minister, had also been interrogated by the police and granted self enquiry bail.

Also, a certain Bashir Fuseini Alhassan – who is believed to be ABA Fuseini – NDC MP for Sagnerigu and former deputy minister for the Northern Region, had also been engaged by the police and was made to write a statement before being admitted to bail.

On Tuesday, three former appointees under President Mahama – minister of state in-charge of Social and Allied Institutions, Comfort Doyoe Cudjoe Ghansah, MP for Ada East; Second Deputy Minority Chief Whip, Eric Opoku, MP for Asunafo South and Brong-Ahafo Regional Minister and Alhaji Inusah Fuseini, MP for Tamale Central and Minister of Roads and Highways – were also grilled.

They were all reportedly charged with stealing and are to reappear before the CID in May.