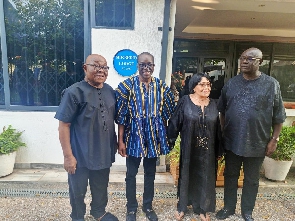 Four speakers under the Fourth Republic met when three of them including the current speaker, Alban Bagbin, visited his predecessor Mike Oquaye.
The visit to the Mikberta Lodge in Accra was to afford Bagbin, Joyce Bamford-Addo and Doe Adjaho, the opportunity to commiserate with Oquaye over the loss of hi wife Alberta.

In a photo shared by Gabby Asare Otchere-Darko, a leading member of the ruling New Patriotic Party (NPP), Oquaye and Adjaho sandwich Bagbin and Bamford-Addo, the first female Speaker in Ghana's parliamentary history.

"Lovely to see three other Speakers of Parliament, the current Speaker, Alban Bagbin, first female Speaker, Joyce Bamford-Addo, and Edward Adjaho, visiting yesterday to console former Speaker Mike Oquaye, who lost his wife, Alberta Oquaye, last Saturday. May she rest in peace," Gabby captioned his post.

Mike Oquaye Jnr announces mother's death

The death of Maj. Rtd. Alberta Adwoa Boatemaa Oquaye, was confirmed by her son, Ambassador Mike Oquaye Jnr., the CEO of the Ghana Free Zones Authority.
He wrote in a social media post: "It is with deep sorrow that I have to convey the news of the sudden passing of our mother; Maj. Rtd. Alberta Adwoa Boatemaa Oquaye.

"Let us All kindly pray for her Husband and our father Rt. Hon. Prof. Oquaye, her son Ambassador Mike Oquaye Jnr and the entire family," the post added.


Lovely to see three other Speakers of Parliament, the current Speaker, Alban Bagbin, first female Speaker, Joyce Bamford-Addo, and Edward Adjaho, visiting yesterday to console former Speaker Mike Oquaye, who lost his wife, Alberta Oquaye, last Saturday. May she rest in peace. pic.twitter.com/RDmmsipj44

— Gabby Otchere-Darko (@GabbyDarko) March 7, 2023
Watch the new episode of The Lowdown below:
You can also watch this episode of People & Places on GhanaWeb TV here:



SARA