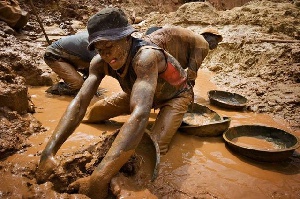 The Government of Ghana has lifted the ban placed on all small-scale mining activities across the country.
This was announced by the Chairman of the Inter-Ministerial Committee on Illegal Mining, Professor Kwabena Frimpong Boateng, who is also Minister for Environment, Science, Technology and Innovation, at a meeting with journalists in Accra on Thursday, 16 August 2018.

"We can imagine that this decision to lift the ban will elicit varied responses from Ghanaians," he stated adding that: "There will be many who will say that the water bodies are still polluted and so the ban must be maintained. On the other hand, there will be those who will argue that hundreds if not millions of Ghanaians whose incomes are related to small-scale mining are under extreme pressure that they can no longer cope with the sustained ban."

As part of efforts to deal with the effects of illegal small-scale mining popularly known as 'galamsey' on the environment and water bodies across the country, the Akufo-Addo-led government through the Ministry of Lands and Natural Resources placed a ban on all small-scale mining activities shortly after coming into office.

The ban was to enable the government deal with the illegal ones among them and to also properly streamline the activities of the licensed miners.

Government launched a joint military and police taskforce called Operation Vanguard to fight recalcitrant galamseyers.


Prof Boateng said several measures have been put in place as part of a roadmap to streamline activities in the sector.

He disclosed that small-scale miners were trained over the period of the ban at the University of Mines and Technology (UMaT), Tarkwa on the best mining practices that will not harm water bodies and the environment.

"So far, we have trained about 3,000 small-scale miners all at the expense of the government," he said.