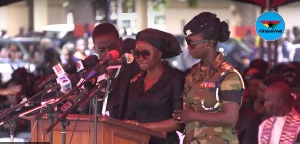 It's been weeks since the emotional burial of the fallen soldier, Major Mahama but his memory still remains fresh in the mind of his widowed wife, Barbara Mahama.
Celebrating Father's Day on a rather sad not, the widow penned down how much of a memory she had shared with the late Major Mahama. According to Barbara Mahama, "this journey will be long and full of uncertainties but we will survive because you would want us to survive". Major Mahama has finally been laid to rest with three sorrowful funerals held on his behalf – the last being that at Bole in the Northern region.

The family of the fallen soldier is asking government to establish a monument in his name so as to ensure that the menace of jungle justice is brought to an end in the country.

"The devil wanted to break me but I am crushed down and not destroyed. God gave me new and stronger wings to fly at a higher altitude. Thank you for the many great memories, even if I say a memory a day, 10 years will not dry up the special moments," she noted.