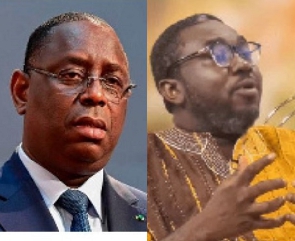 Oliver Barker-Vormawor, a convener for the #FixTheCountry Movement, has called out the Economic Community of West African States (ECOWAS) over its silence on the tense political atmosphere in Senegal.
According to him, the President of Senegal, Macky Sall, is trying to hold on to power beyond the constitutionally mandated two terms but ECOWAS have been silent.

In a tweet shared on Tuesday, April 11, 2023, Barker-Vormawor said that the community have not issued any remarks on the happening in Senegal but as soon as it leads to a military take over, they will issue a statement.

"So ECOWAS is going to keep quiet over Macky Sall and his crazy third term power grab in Senegal; but wait to issue a Statement if he gets overthrown?" the tweet he shared read.

Meanwhile, President Macky Sall has rejected claims that it would be unconstitutional for him to seek a third mandate.

According to africanews.com, Macky Sall, however, has failed to confirm whether he will be running for the presidency again.
"Legally speaking, the debate has been settled for a long time. Now, should I run for a third term or not? It's a political debate, I admit it.

"I have not yet given my answer. I have an agenda, a job to do. When the time comes, I will make my position known, first to my supporters, then to the Senegalese people," he is quoted to have said in an interview with French magazine L'Express in March.

Senegal's constitution was revised in 2016 to shorten presidential terms from seven to five. It also prohibits presidents from serving for more than two consecutive terms.

Macky Sall has served for two terms having been elected in 2012 and again in 2019.


So Ecowas is going to keep quiet over Macky Sall and his crazy third term power grab in Senegal; but wait to issue a Statement if he gets overthrown?

— Osagyefo Oliver Barker-Vormawor (@barkervogues) April 10, 2023
Watch the latest episode of People and Places below:





IB/SARA