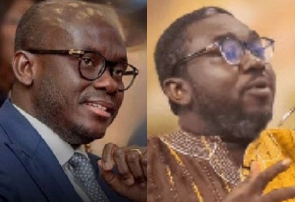 A lead convener of #FixTheCountry Movement, Oliver Barker-Vormawor, has taken a swipe at the Attorney General and Minister for Justice, Godfred Dame, after the High Court in Accra ruled that he was not a flight risk and could travel outside Ghana.
According to Barker-Vormawor, the Attorney General did all he could, including telling the court that he would not return to Ghana, to ensure that his passport is not released but he (Dame) failed.

Barker-Vormawor, who made these remarks in a tweet he shared after his return to Ghana from his trip to Europe on July 18, 2023, slammed the AG for suggesting that he would not return to the country for his ongoing criminal trial should his passport be released.

"When The High Court released my Passport temporarily after a tedious round of three appearances and arguments, the Attorney-General was insistent that if my passport was given to me I won't return to Ghana to face trial.

"I flew in last night for my trial today... Sometimes, all you have to do is call the bluff of buffoons. I won't return to Ghana no, ad3n does Ghana belong to you? You think because of this useless waste of time that I will go into exile? Gyimiie saa na Yesu Aba," parts of the tweet reads.

The convener disclosed that his trial has been postponed to October 12, 2023, because "the Attorney-General has again failed to file the necessary disclosures. Just the usual".

Oliver Barker-Vormawor was slapped with treason felony charges by the state after he was arrested in 2022 for the, "I would organise a coup myself" post he shared on social media.
View the tweet below:


Neho!

When The High Court released my Passport temporarily after a tedious round of three appearances and Arguments, the Attorney-General was insistent that if my passport was given to me I won't return to Ghana to face trial.

I flew in last night for my trial today.

The… pic.twitter.com/r8s7TSA6ai

— Osagyefo Oliver Barker-Vormawor (@barkervogues) July 18, 2023
To Swiss is to Alps! pic.twitter.com/NQGoPecV0U

— Osagyefo Oliver Barker-Vormawor (@barkervogues) July 16, 2023
BAI/WA

Watch the latest episode of The Lowdown below: