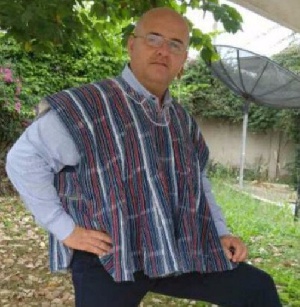 Mr. Kwamina Bartels yesterday launched Fadi Dabousi's Red Book at the African Regent Hotel, Accra and observed that we are in a season where stories of non-existent projects are being put out for votes.
Recalling the 200 SHSs which the NDC government promised to build but ended up failing to do so woefully, he added that, only 15 of these have been commissioned.

Fadi's Red Book as a response to the NDC's Green Book which he said is intended to set the records straight.

Hopeson Adoye, a New Patriotic Party (NPP) activist who was MC for the launch gave President John Mahama a 48-hour ultimatum to remove the numerous NDC party flags from the Flagstaff House. Failing to do so, he said, he and his party members would also hoist the NPP flags there since, as he put it, the Flagstaff House is a state property and not the party's.

David Asante of the 'Let My Vote Count Alliance' who spoke at the function hailed what he said was Fadi's commitment to the NPP over the years.

The contents of the Red Book, according to David Asante, represent the realities of the Ghanaian situation under the current government.
The launch was graced by a cross section of largely NPP sympathizers and the media.

Fadi took a swipe at the Mahama government's poor governance record and explained that he has knowledge about almost all parts of the country and therefore tell the state of roads and other infrastructure in these structures.

The Red Book is the second publication by Fadi Daboussi the first being 59 Years To Nowhere.

He was in the news recently when upon his return from abroad he was arrested at the Kotoka International Airport and detained by the BNI for some days.