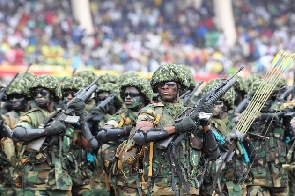 The government plans to send an additional 5,000 soldiers to Bawku by the end of this week to help maintain peace and security in the face of the ongoing conflict.
Palgrave Boakye Danuquah, the government's spokesperson on governance and security, stated that the issue is being approached holistically in order to find a long-term solution.

The government's position, he explained, is for peace to reign in Bawku.

"Our position is that peace must prevail. We have called on the inhabitants of Bawku to ensure that they appreciate peace and appreciate the dialogue and also that they try as much as possible that in their idle time, they do not arouse conversations that will bring disturbances to them.
Asa government, we are deploying by close of this week close to 5,000 military people to be in that area. We already have a military presence in there, but we are adding on just to ensure that peace prevails."

He added that the government is not only focused on the Bawku conflict but the influx of vulnerable persons from Burkina Faso.

"We are not just dealing with Bawku. We are also dealing with the influx of very vulnerable people that are coming in from Burkina Faso as a result of terrorism whom we are putting into various camps. It bewilders very much on the people of Bawku and the inhabitants to really ensure that peace prevails."