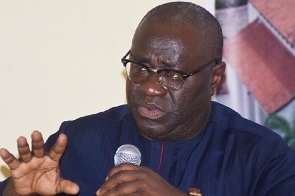 Director of Academic Affairs and Research at the Kofi Annan International Peacekeeping Training Centre, Professor Kwesi Aning, has said the conflict in Bawku should be treated as a national crisis.
According to him, interested parties feeding into the conflict and benefitting from it are not only in the North East region but also in Accra

"This is no more a Bawku crisis, it's a Ghana crisis… because the multiple interests who are feeding into this thing they are not only located in the North East or in Bawku, they are located in Accra.

"Those who are exploiting the insecurity through trafficking network have also been benefiting so the kinds of blowback that will happen if this new chief enters Bawku is that no amount of military force will be able to coil the anger and the violence between Kusasi and the Mamprusi," myjoyonline.com quoted Prof Aning when he appeared on Newsfile.

He raised concerns also as to how government missed the hint that the people were preparing to for the enskinment of a new Naba even though he got the clue in December.

"Where did the intelligence get lost? Because I have spoken to enough of the people on the ground to know that reports were written and sent up the chain, so where did they get truncated?" he said.
There have been some disturbances in Bawku which has claimed many lives in the past few days.

Aside from the killings, the King of the Mamprugu Traditional Area, Naa Bohugu Mahami Abdulai Sherigah II, enskinned a new chief for Bawku in the early hours of Wednesday, February 15, 2023.

The new chief, who was enskinned at the Nayiri palace in Nalerigu, is called Alhaji Seidu Abagre, GhanaWeb can confirm.

Jubilations were seen all over the forecourt of the Nayiri palace in Nalerigu, the North East Regional capital, as well as the traditional city of Mamprugu.

However, the government issued a statement rejecting the installation of the new Chief by the King of Mamprugu Traditional Area, Naa Bohugu Mahami Sherigah II.
The government, in the statement signed by the Minister of Information, Kojo Oppong Nkrumah, said Naba Asigri Abugrago Azoka II remains the Bawku Naba.

It added that the security apparatus in Bawku have been instructed to arrest anybody who holds himself as Bawku Naba other than Naba Abugrago Azoka II.

YNA/DA