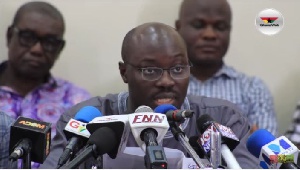 Cassiel Ato Forson, a former Deputy Minister of Finance, has condemned Vice President Dr Mahamudu Bawumia for describing the Minority as "ignorant" in relation to the recent $2.25billion bond issued by government.
"The voice sounded like him and I have no reason to doubt that it is the Vice President who spoke, but I doubt that this matter can come from the mouth of a Vice President – because it is not presidential," he indicated.

Dr Bawumia described the Minority as an "ignorant" bunch who do not "understand" the processes of managing the economy, thus, must do some reading to educate themselves.

Speaking to the media in Washington DC about the Minority's claim that the domestic bond issued by the Akufo-Addo government was done in "secrecy", without parliamentary approval, and "cooked" to favour US-based investor Franklin Templeton, Dr Bawumia said: "This shows a lack of understanding, the Minority have never understood this economy and it's just amazing that people on that side who were actually in charge of managing the economy will be making such statements. It really shows ignorance and I am so sad when I hear that from people who should know better."

According to the Minority, Mr Trevor G. Trefgarne, a director at Franklin Templeton, the institution that bought 95 per cent of the bond, is also a Director at Enterprise Group Limited, a company of which Ghana's Finance Minister Ken Ofori-Atta is co-founder, thus, raising issues of transparency, conflict of interest, and suspicion.

At a press conference on Tuesday, the Minority, led by former Deputy Finance Minister Cassiel Ato Forson, said the involvement of the US-based firm changed the dynamics of the bond from being a domestic one to an international one that needed parliamentary scrutiny and approval.
"We also wish to point out that this Bond issue is clearly an international economic/business transaction within the meaning of article 181 (5) of the Constitution," he added.

"Therefore, we expected that the bond issuance would have been brought to parliament for approval. This is because although the transaction appears as to be a domestic sale of bonds, it is in truth a 'private placement' and an international economic transaction given the fact that Franklyn Templeton is a United States registered company and, therefore, qualifies as a foreign entity under article 181 (5) of the constitution. We, therefore, call on the Finance Minister to provide parliament with the full complement of documentation on this transaction for scrutiny and ratification."

Dr Bawumia said all the assertions and allegations by the Minority betray their lack of understanding in handling the economy.

"So they need to understand, maybe they should read a little, but they need to understand what took place: we issued a cedi bond, there's no secrecy to the matter, it was very well invested in. The holders have invested many times in Ghana in bonds that were in place when Seth Terkper issued them, they bought them, 24 per cent interest rate. This time it is 19%, we are doing even much better, but this is what politics has been reduced to, trying to say things which really have no basis and are basically wrapped in ignorance, and, so, I'm a bit sad for Ghana and for them because they are really demonstrating a lot of ignorance in the process of managing this economy," he noted.

But the Member of Parliament has hit back at Dr Bawumia expressing reservations about his comments.
He reminded Dr Bawumia that the "Minority has a big responsibility given them by the people of this country to raise concerns when they see that issues have not gone well for the betterment of this country".

For him, Dr Bawumia missed the point and needed to address the key issues raised.

"What we are saying is that the circumstance under which this bond was issued is very much different from what we have seen in the past," he told Joy FM

Mr Forson asked government to come clean and open up to Ghanaians on the issuance of the bonds which the NDC MPs have maintained was cooked for an entity, raising issues of conflict of interest.