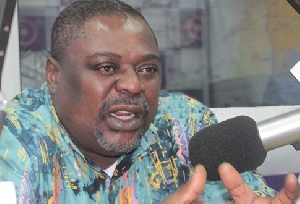 A Deputy General Secretary of the ruling National Democratic Congress (NDC), Koku Anyidoho is alleging that, Dr. Mahamudu Bawumia, the running mate of Nana Akufo-Addo bribed Nana Addo to pick him as a Vice President.
According to him, he [Bawumia] was picked by Akufo Addo in 2008 after he contracted his [Akufo Addo's] brother to redenominate the Ghana cedi.

He was reacting to claims by the NPP at a press conference yesterday that, President Mahama is abusing his incumbency and buying votes.

Dr. Bawumia has also lambasted President Mahama and described him as a bad driver and corrupt. The running mate of Nana Addo on tour of the Central Region told a gathering of supporters of the party that, President Mahama and his appointees are stealing from the state hence, the hardship we are facing.

But in a rebuttal Koku Anyidoho who has for some time now taken on Dr. Bawumia over the credibility of the register, said, the former deputy governor of the Central Bank lacks the credibility to accuse someone of being corrupt.

Speaking in an interview with Kwame Tutu on Rainbow Radio 87.5fm, Koku said,

''I am saying that, Dr. Bawumia bought his position in 2008 by giving the contract for the redenomination of the Ghana cedi to Akufo Addo's brother, Bamsy Akufo Addo.''
Koku Anyidoho said, if we are talking about people buying positions, Bawumia bought his position as running mate to Akufo Addo in 2008 as deputy governor of the Bank of Ghana by awarding the redenomination contract to Akufo Addo's brother. And I'm saying it for a fact.

Bawumia as deputy governor of the Bank of Ghana bought his running mate position. Let Bawumia come out and tell us how much they made out of that contract,'' he added.

When told that Bawumia may sue him in court over his allegation, Koku said, he will not be shaken by that.

According to him, Dr. Bawumia was in charge of the redenomination exercise and that was how come he managed to award the contract to the brother of his leader and flag bearer.

''He [Bawumia] has not told the good people of Ghana how much that exercise cost. And I'm saying that, it was after awarding that contract to Akufo Addo's brother that Ken Offori Atta, Kelly Gadzekpo, Yoofi Grant and Co. got Akufo Addo to make him his running mate. Let Bawumia come and challenge me. He bought his position. Bawumia was NDC. NDC paid for his academic studies in Canada.''

He revealed further that, Bawumia's father who was then the Chairman of the Council of State, maanaged to get him [Bawumia] a schorlarship to study abroad. Koku Anyidoho noted that, the former Finance Minister, Dr. Addo Duffour employed Dr. Bawumia as an assistant manager and when the NPP came into office, they bought and made him a deputy governor.
He said, "Bawumia sold the sovereignty of Ghana to the NPP just so he can become running mate.''

He added that, Bawumia's father was highly influencial and made it possible for him to benifit from the ruling government but betrayed the party.

''Bawumia is a traitor. He sold the sovereignty of this nation to the NPP. Gave a huge contract to Akufo Addo's brother on the redenomination exercise and that is how he became running mate of Akufo Addo.''

As part of the benefits from the redenomination exercise, Dr. Bawumia, Koku alleged travelled to Canada cruised on a yatch, and bought a $ 100, 000 studded dress for the wife. ''Out of that contract, some people sent their wives to France, Pari on ther 50th birthday, bought a $ 100, 000 pearl studded dress for their wives; carried people on a plane and went to France; to go have a 50th birthday bash aboard a yatch. They went and had fun out of the redenomination exercise...So if Bawumia is talking about people who have stolen state resources, he should come down and tell us how much it cost Ghana for the exercise; how much he got and how much Nana Addo's brother also got.''

In his view, the redenomination exercise was a horrible exercise that has burdened Ghanaians adding that, the NPP used the money from the exercise to finance their campaign. He has warned Bawumia to ''shut up'' or they will expose him ''badly as a traitor, and a nation wrecker''. ? ?