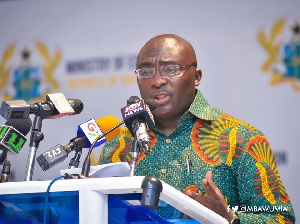 Vice President Dr Mahamudu Bawumia on Tuesday, presented a 66-seater bus to Mfantsipim School to facilitate movements of both students and staff for sporting and other extra curricula activities.
Mr Kwamena Duncan, the Central Regional Minister who donated the bus on behalf of the Vice President said it was to redeem a pledge he made upon a request by the School's authorities at its 141st Anniversary Speech and Prize Giving Day of the School.

He praised the School authorities for their long term commitment and dedicated services towards maintaining the remarkable academic performance of the institution and expressed the hope that the bus would significantly ease its transportation challenges.

In addition, it would be difficult to achieve quality education, if teachers were neglected and thus it is necessary that everything should be done to ensure that teachers were adequately motivated.

Mr. Duncan pleaded with the school authority to ensure good maintenance culture of the bus to last.
As a former tutor of the school, Mr Duncan identified myriad of infrastructural and logistical constraints as teething challenges militating smooth academic work and assured of Government's resolve to remedy the situation.

He appealed to corporate bodies, philanthropists and old students to continually assist in the logistical and infrastructural development of the school.

Mr Manfred Barton-Odro, the Headmaster of the school expressed appreciation to the Vice President for the kind gesture and said the vehicle would serve as s great purpose and described the donation as "timely" because the old school bus was obsolete and pledged to dutifully maintain it to serve its purpose.